Navionics Resarch Inc. is pleased to introduce a minor feature upgrade that can improve your Telemetry History Viewing experience!
In the past, pressing the History button for a particular telemetry site has always opened up a new History Viewer window by default in the middle of the screen and with the scroll bar positioned at the top.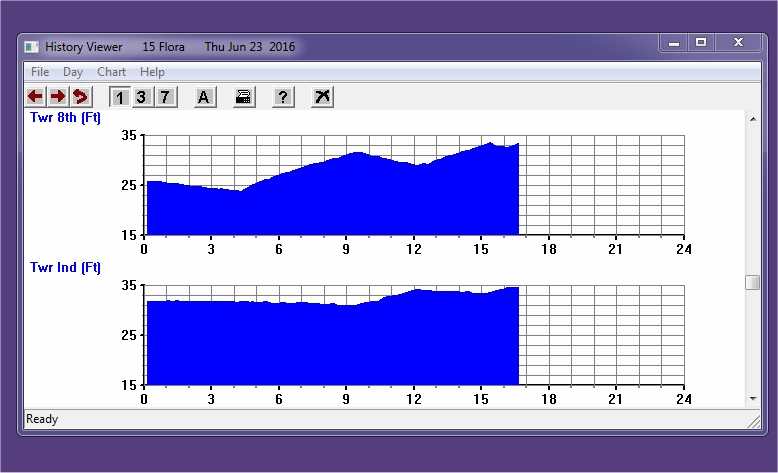 Subsequent screen positioning, sizing, and setting of the scroll bars is performed manually, and according to operator preferences. When several history windows are opened up and adjusted, the process can take time to get everything exactly as desired.
Our new History Viewer window now saves valuable operator time by storing its state information upon closing, so that the desktop location, size, and scroll position of each site's History Chart Window is maintained in computer memory.
For example, after a system reboot, the History Viewer windows are easily restored to preferred locations, sizes, and scroll positions. And whenever a site's history window is re-sized or moved, the system makes a note of the new preference.
As a concrete example, one of our clients has 14 key history charts that are kept open on the screens; and this client has positional, size, and scroll preferences for each. Leveraging our new History Viewer Program with a desktop shortcut, we delivered the ability to open, position, size, and adjust scroll for 14 history charts with a single double-click of the mouse — saving valuable time.
The new History Viewer Software is now ready for general deployment. The total cost for this upgrade is very modest and simply covers the time required for initial installation and configuration. The software itself is offered at no extra charge.  It is important to note that the upgrade provides a perpetual, portable license that can be carried forward — even if a new Telemetry Server(s) is purchased in the future.
Admittedly, this feature is targeted as a time-saver mainly for those clients with a preference for having several/many simultaneously open history chart windows across the desktop. If you feel that this upgrade will be of value and benefit to you and the Water District, let me know and we'll get started.
And as always, if you have any questions, please don't hesitate to reach out by phone or email.
Telemetry, SCADA, & Controls Newsletter
Was this article helpful?  Would you be interested in receiving updates such as these in our occasional email-delivered newsletter?  If so, here's our sign-up page:
Subscribe to Navionics Research's "Telemetry, SCADA, & Controls Newsletter"