Extreme Cold and Pressure Sensor Protection
During extremely cold temperatures, it is important to keep in mind that the pressure sensing devices in your system — and the tubing that feeds them — should be prevented from freezing.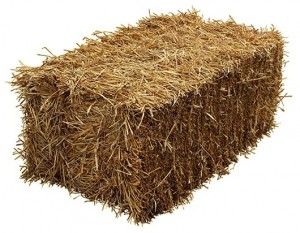 Often times — especially at Water Towers — the pressure transducer is protected from freezing via installation in a below-grade pit.
However, even with a below-grade installation, freeze problems can occur.  For this reason, we recommend that the pit lid be thoroughly secured so that wind cannot enter the pit.  Also, we recommend that several square straw bales be placed over the lid during the winter months to provide further insulation, and as a guard against wind intrusion.
And for sites that have a history of difficult-to-solve freeze problems, we are pleased to introduce a new, actively-powered heated solution.  The kit contains a GFCI-protected power receptacle and a 24 Foot Wet-Location-Compatible Heat Cable (6 Watts of Thermal Energy per Foot).  The GFCI Receptacle is installed above-grade in the telemetry enclosure, and the Heat Cable is plugged into the receptacle and fished through conduit into the below-grade pit.  It is important to note that the system will not provide active heat if the station experiences a power outage, or if the GFCI receptacle is tripped.  If the GFCI receptacle is ever discovered to be tripped, then the Heat Cable should be inspected for damage and possibly replaced.
The kit can be user-installed, or alternatively we can provide turnkey installation service.
The photos below from a recent project illustrate the installation:
Interested?… Contact Us.
Are you interested in retrofitting your below-grade transducer pits with our Actively-Powered Heat Solution?  Give us a call, and we'll be glad to discuss it with you in detail:
https://www.wireless-telemetry.com/contact/contact.htm
Telemetry, SCADA, & Controls Newsletter
Was this article helpful?  Would you be interested in receiving updates such as these in our occasional email-delivered newsletter?  If so, here's our sign-up page:
Subscribe to Navionics Research's "Telemetry, SCADA, & Controls Newsletter"