Wireless Telemetry, SCADA, and Industrial Controls
Announcement:

After over 22 years in the wireless telemetry and control system integration arena, I have decided to withdraw from future system integration pursuits.

I have very much enjoyed the challenging work and the good people whom I have met over the past 22 years. I shall miss everyone immensely.

Thank you,

-Jim Mimlitz, Navionics Research Inc.
Navionics Research offers a broad range of experience in telemetry system integration, installation, and commissioning. Our efforts are oriented toward the rural and municipal water and wastewater industries of Illinois, Missouri, and Iowa.
At the core, all of our systems are based upon an industrialized version of the IBM PC architecture, which is arguably the most stable computer standard in history. This stability has benefitted our customers via long-term parts availability.
Our systems are known for reliability and ease-of-use. We specialize in turnkey solutions, and we can assist your utility from the early planning stages all the way through installation, commissioning, documentation, and training.
We welcome you to study our systems and services. And we are always glad to answer any questions, so please don't ever hesitate to call or email (See Contact page). To keep up with our latest efforts, please be sure to sign up for our Telemetry & Control Newsletter... and please be sure to check in regularly with our Telemetry & Control Educational Blog.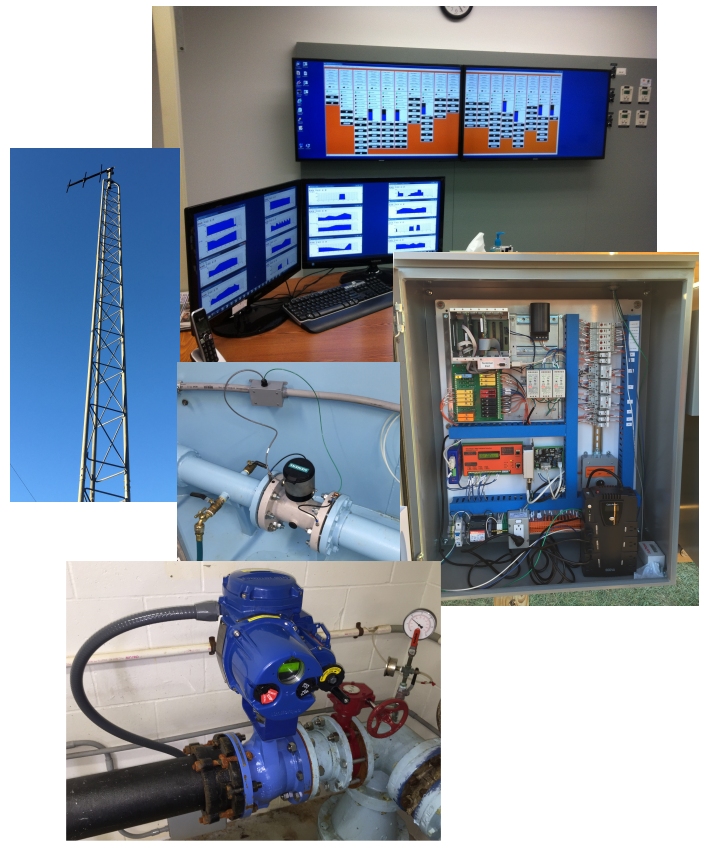 News...


Facility Monitoring at the Water District Office. More...
Need Help Hooking up the Battery of Your New Eaton UPS? More...
Chlorine Monitoring & Supplementation In the Rural Water System. More...
Introducing New Bell-202 Modem for Radio Telemetry & SCADA Applications. Now with Serial Port Isolation! More...
Navionics Research, French Gerleman, and Rockwell Automation Deliver Emergency VFD Equipment & Services to Critical Water Infrastructure. More...
Coaxial Cable Fastener Maintenance for the Wireless Telemetry System. More...
NRI Offers the Ability to Closely Monitor 3-Phase Voltage and Power at Water Plants and Pumping Stations. More...
Thank You! to all who visited with us at the 2017 Illinois Rural Water Annual Conference! More...
Preparing Your Water Utility for an Imminent Ice Storm. More...
Tank Level Altitude Control & Water Hammer Prevention with a Speed-Controlled Butterfly Valve. More...
New Export Utility Links Engineering & Hydraulic Modeling Software with SCADA History Data. More...
Increasing Fault-Tolerance with a Redundant SCADA Server. More...
Adding Multiple Monitors to Your SCADA System. More...
Solve Power Quality Challenges with an Online/Double-Conversion UPS. More...
Inhibiting Free Flow at an Inline Booster Pump Station with an Automated Gate Valve. More...
RTU Enclosure Heat Reduction with Passive or Active Ventilation. More...
Extending Telemetry System Life with RTU Control Panel Refurbishment. More...
Introducing Improved Telemetry History Viewer Functionality. More...
Introducing SCADA System Data Recovery Services. More...
Introducing an Antenna Mounting Bracket for Water Tower Painter Rings. More...
Using a VFD To Convert Single-Phase to Three-Phase Power. More...
Powered Freeze Protection for Below-Grade Transducer Pits. More...
PowerPoint Slides Available from the 2015 AWWA Telemetry Training Course in Benton IL. More...
Need to Monitor Voltage Levels at Your Pumping Facility? We Offer an Economical Telemetry Method for Monitoring, Trending, and Alarming 3-Phase Voltage Levels. More...
NRI Introduces New, Exciting Valve Technology For Improved Telemetry Control of Flows & Pressures. More...
NRI-Controlled Levee District Featured on KHQA TV News (Keokuk IA, Hannibal MO, Quincy IL). More...
PowerPoint Slides Available from the 2014 AWWA Telemetry Training Course in O'Fallon IL. More...
Introducing VFD & Energy Analytics for Telemetry, SCADA, and Control Systems. More...
PowerPoint Slides Available from the 2014 AWWA Telemetry Training Courses in Chicago & Moline IL. More...
Need reliable and accurate Telemetry readings of your ditch and river levels? We offer a Pneumatic Transducer instrumentation package for the Levee District industry. More...
Weary from the heavy maintenance required by your diaphragm valve? Replace it with a Telemetry-Controlled, Quarter-Turn Valve. More...
Interested in having your SCADA System automatically generate your reports? Read how we can help. More...
Navionics Research is pleased to announce the unveiling of a new website look. More...
Read about these and other recent developments and upcoming conference presentations. More...